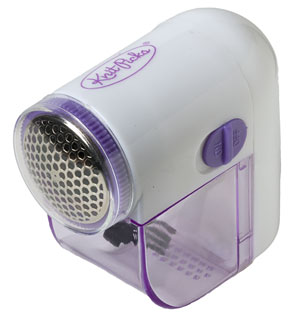 I received this in a swap package earlier this year and have been looking forward to trying it since. I've never used one before so it was pretty exciting! It's small, compact and easy to use. It uses 2 AA batteries and the lint collector is quite easy to snap off for cleaning and emptying. It also comes with a cute tiny brush in case you need to clean the head.
What is lint? What is it made of and why is it here?
With a little bit of research i found that 'l

int'

is really the accumulations of

fibers

and other materials.

During the course of normal wear, these fibers may either detach or be jostled out of the weave of which they are part. This is the reason that heavily used articles like

shirts

and

towels

become thin over time, and why these particles collect in the lint screen of a

clothes dryer. Unfortunately it does affect the fabric; the more fibers you loose the thinner the fabric gets. Check out more about lint via wiki.
There are 3 items i tried this on. I'm listing them below along with the before and after pictures; if you want to see some live action check out the video(below)! In short, i'm quite pleased with the results and if i didn't own one, i would purchase one for myself (only $3.99 via Knit Picks, and you may even be able to find it at your local dollar store).
The cowl is made with Bernat's Softee Chunky yarn. I've made it a while ago and it's been used quite often... it's big and over-sized making it one of my favorites. I'm rather happy with the results!
This Harvest sweater was made with Red Heart with Love(and has not been washed yet, all thought it has been worn enough). The pilling is focused on the underarm of the sleeves as well as the sides of the sweater. As you can see, the lint/bobbles are gone! Yay!
The last sweater was a purchase from South America when i went to visit back in 2007. It's gorgeous and beautiful; however the lint hasn't been removed since and you can tell. I had to use it all over for this one; however i'm glad i did.... it looks amazing!