This year has been pretty productive when it came down to reaching my goal of completing 1 game a month(12 overall). I think i did pretty well with total of 10. The last few years my ability to actually beat a game(or stick with it until i did) has been going downhill; this year i really made an effort to follow through. I plan to do the same this coming 2016! Yoshi's Wolly World is a recent completion and i've yet to have the chance to make something related; but i'll update accordingly.
The other part of this goal was to make something related to each game(that i completed). Chances are you already know that i'm a yarn crafter(crochet/knit). For some i created a pattern, for others i used existing ones and adapted them to my needs. I'm linking my project page(on ravelry) and adding any other related links applicable. For a more interesting and thorough look at all the projects, check out the video below.
Paper Mario: Super Star (3DS)
Wrote up the pattern for some mini-mushrooms.
'Mini Mushroom Amigurumi'
- Free pattern published in my blog.
Yoshi's New Island (3DS)
Created and wrote up pattern for some amigurumi eggs.
'Amigurumi Egg
' - Free pattern published in my blog.
Bravely Default (3DS)
Projects inspired by character costumes
'Bravely Default - Pirate Fingerless Gloves' (no pattern) -
Project Page
'Bravely Default - Kimono Inspired Cowl' (no pattern) -
Project Page
DuckTales Remastered (Wii U)
Used a 16 bit character from the old verision of the game
'Ducktales' Pillow - Tunisian Crochet(no pattern) - Project Page
LoZ: Majora's Mask (3DS)
3 tail fox amigurumi, character in game
'LOZ: Majora's Mark' - Keaton Fox Amigurumi (free pattern) - Project Page
Cate West: The Vanishing Files (DS)
Long red scarf as the main character wears
'Cate West' Inspired - One Row Lace Scarf (free pattern) - Project Page
Two adorable fox hats
Heavy Rain (PS3)
A couple of hats in a colorway reminiscent of the game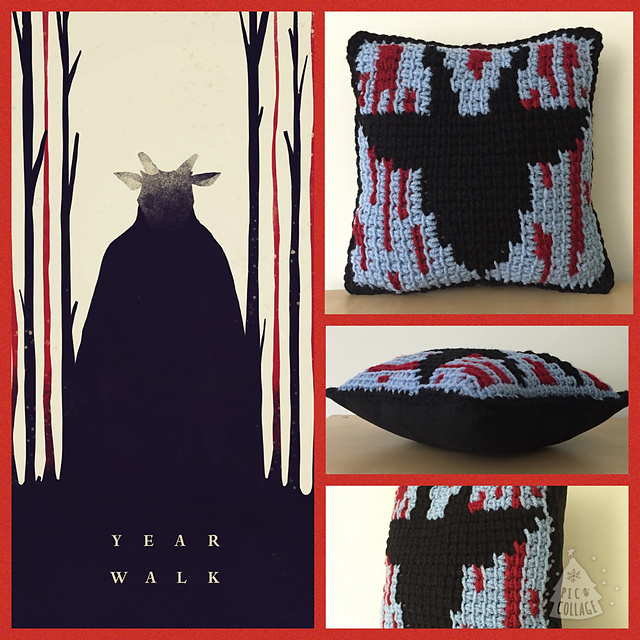 Tunisian crochet pillow
inspired
by the dark side of Year Walk.
'Year Walk' Inspired Tunisian Crochet Pillow (no pattern) -
Project Page
Project still to come! Maybe a tunisian crochet pillow or perhaps a knitted item?