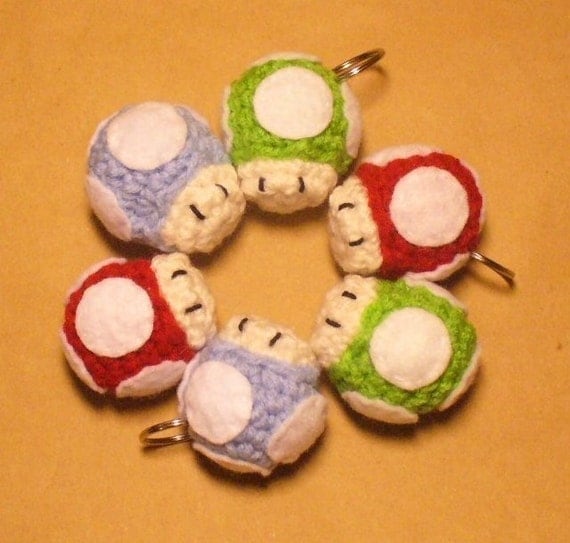 These cute mushrooms were inspired by the Super Mario video game series. Why so tiny? 'Cause why not! This takes no time at all and yields some adorable results. I've made magnets and keychains from this cute amigurumi which i offer on
my Etsy shop
individually(
view them here
) as well as in sets of 3(
view them here
).
Top:
5 in magic circle - 5 stitches
Increase all - 10
(1sc, 1 increase) repeat - 15
(2sc, 1 increase) repeat - 20
Sc all - 20
Sc all - 20
(2sc, 1 decrease) repeat - 15
Finish off and leave a long tail (will be used to sew the top to the bottom of the mushroom)
Bottom:
10 in magic circle - 10 stitches
(1sc, 1 increase) repeat - 15
Sc all - 15
Finish off
Stuff the top with fiberfill (or your choice of filling/stuffing) and thread the tail through a yarn needle. Match up the knots of the top and bottom piece before sewing together with your preferred sewing stitch(you can view my method
on the tutorial video here
).
Finish:
I used felt spots for my amigurumi which are about the size of a US quarter(approx 24.25mm). I glued and embroidered mine on, however either/or is enough. You can also crochet the spots, needle felt them on, use different fabrics, embroider them, or not include any at all.... so many options and it's totally up to you!
I embroidered eyes on mine to resemble the video game characters a little closer. Crochet thread was my choice(is what i had in my yarn stash), but you can use yarn, regular thread, cut the eyes out of fabric, or choose not to include them.
Want to turn then into magnets or keychains?
I show you how at the end of my video tutorial(
click here to view from that point!
)
That is all ~ your cute amigurumi should be complete! Please feel free to sell/gift/share the items you make with this pattern but please don't take credit for the design. Do not distribute or sell this pattern as your own, but do share the link to this blog with those interested. Thank you! :)